New pectin production starts in Brazil. Equipment for the production of pectin with a capacity of 6000 tons per year.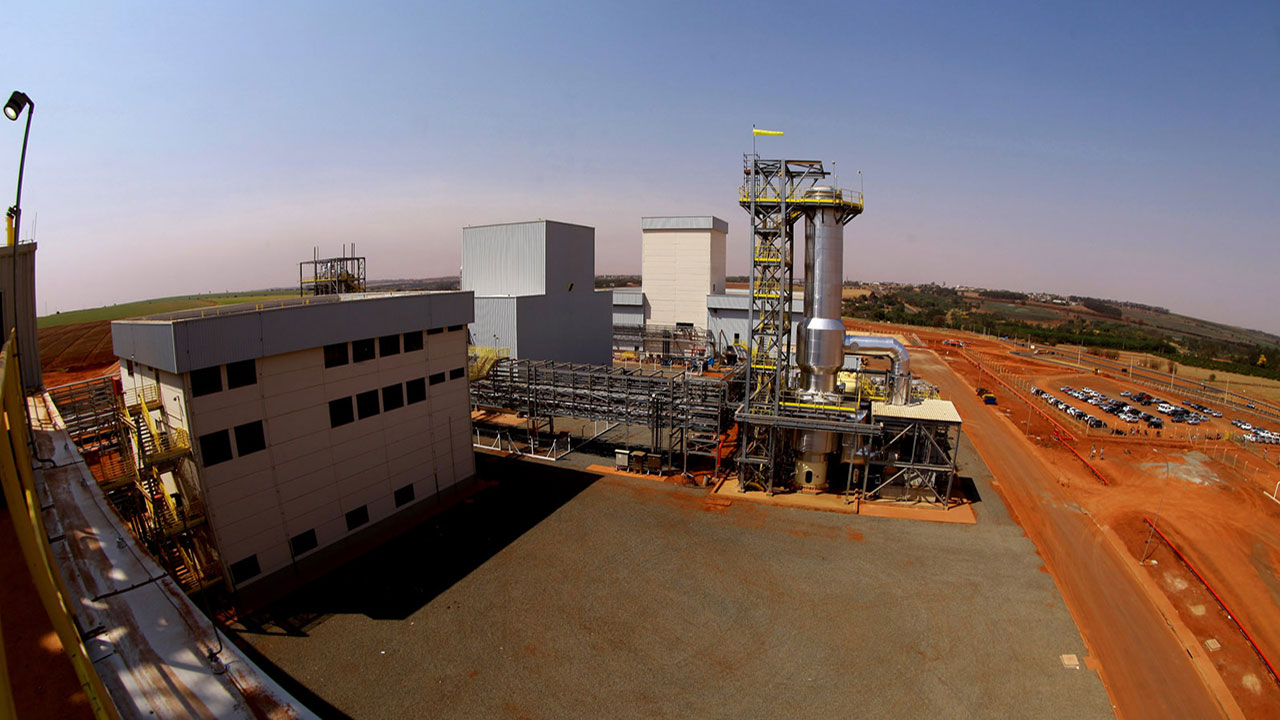 Cargill expands global pectin footprint with opening of $150 million processing facility in Brazil.
Demand for pectin is at an all-time high, fueled by global trends around sugar reduction and label-friendly formulation, as well as the popularity of fruit-flavored dairy drinks. 
Cargill's customers look to us for the on-trend and innovative new products that deliver the label-friendly and vegan alternatives that consumers are seeking.
To meet the demand for pectin, Cargill invested US $150 million in a new HM (High Methoxyl) pectin plant in Bebedouro, Brazil which commenced operations in September 2021. The plant produces products for our high-methoxyl (HM) pectin portfolio to serve the dairy drinks, juice beverages, jams and confectionery markets.
Built in the heart of Brazil's citrus-growing region, the new plant's proximity to citrus fields ensures an abundant supply of fresh fruit peels – the raw material required for premium pectin production – and will significantly expand our ability to supply to customers around the globe. Historically, Europe has been and still is the largest market for pectin. But during the last decade, demand for pectin has expanded across all regions, especially Asia.
The processes, technologies and controls used in the new plant were designed to provide the superior functionality application and ingredient performance Cargill's customers expect. In addition, the plant has in place raw material quality controls both at point-of-entry as well as in-line controls to ensure robust product functionality for customers.
In keeping with Cargill's commitment to sustainability, the new plant also leverages advanced technology to reduce its environmental footprint, and includes sustainability certification right down to the raw materials. This starts with the plant's proximity to its citrus suppliers and their Rainforest Alliance certified farmers, which helps minimize CO2 emissions from raw material transport, promotes regenerative agriculture practices, and extends to its state-of-the-art design. Built according to Cargill's stringent guidelines, the Bebedouro plant is powered by thermal energy generated from biomass and biogass, using sustainability practices already proven at other company facilities.
Production at Bebedouro complements our three other pectin factories, which are all located in Europe. Cargill has a strategy to become a significant and sustainable leader in the global pectin market, through our reliable and high-quality Unipectine™ offering. We operate a diversified raw material sourcing program that includes long-term partnerships with a growing base of peel and pomace suppliers. Our procurement strategy is based on in depth market intelligence and is grounded on thorough quality and compliance checks.
"Adding a fourth pectin production facility to our supply network further secures our position as a reliable supplier of this sought-after ingredient and helps us deliver against consumer's demands and our customers' needs. In addition, it represents a major milestone in our vision to become a leader in the global pectin market.''
Label-friendly and vegetarian trends spell pectin opportunity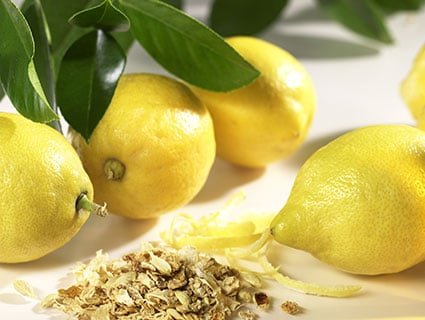 Pectin is trending in new product launches and reformulation projects. Growth is driven by the increasing demand for label-friendly, vegetarian and vegan options.
Pectin market demand projected to grow at a minimum of 3% CAGR from 2019 to 2025.*
+2% CAGR in pectin inclusion in global new product launches (2015 vs. 2020).**
Spoonable Non-dairy Yogurt (+12%), Drinking Yogurt/Fermented Beverages (+11%) and Gummies & Jellies (+8%) are the fastest growing global categories for pectin inclusion (2015 vs. 2020).**
Pectin is present in 79% of all Confiture & Fruit Spreads launches containing a "natural" or "no additives/preservatives" claim.***
Pectin is present in 37% of all Spoonable Dairy Yogurt launches and 63% of all Spoonable Non-dairy Yogurt launches containing a "natural" or "no additives/preservatives" claim.***
*Global Trade Atlas 2019.
**Sum of Bakery, Confectionery, Dairy, Desserts & Ice Cream, Pet Food, Ready Meals, Sauces & Seasonings, Soft Drinks, Soups, Spreads. Source: Innova Market Insights, Global data, September 2021.
***Europe and North America launches in 2020. Source: Innova Market Insights, September 2021.
Making a clean switch: The pectin advantage
The label-friendly solution: Pectin is a plant-based ingredient present in the cell walls of all higher plants. It serves as a water-soluble ingredient with gelling and thickening functionalities.
The well-known solution: 47% of US and 53% of European consumers are aware of pectin. It has a positive health perception compared to competing ingredients.
The versatile solution: Pectin can be used in anything from flavor-filled gummies to acidified dairy products. It's an excellent thickener, gelling agent and stabilizer, even in low sugar applications.
The sustainable solution: Most of the pectin in use today is sourced from apple pomace and citrus peel, both byproducts of juice production. There's little waste when it comes to this process.
*Source: Cargill Ingredient Tracker (US, 2021; Europe, 2021)
Powerful in pectin: Our global asset footprint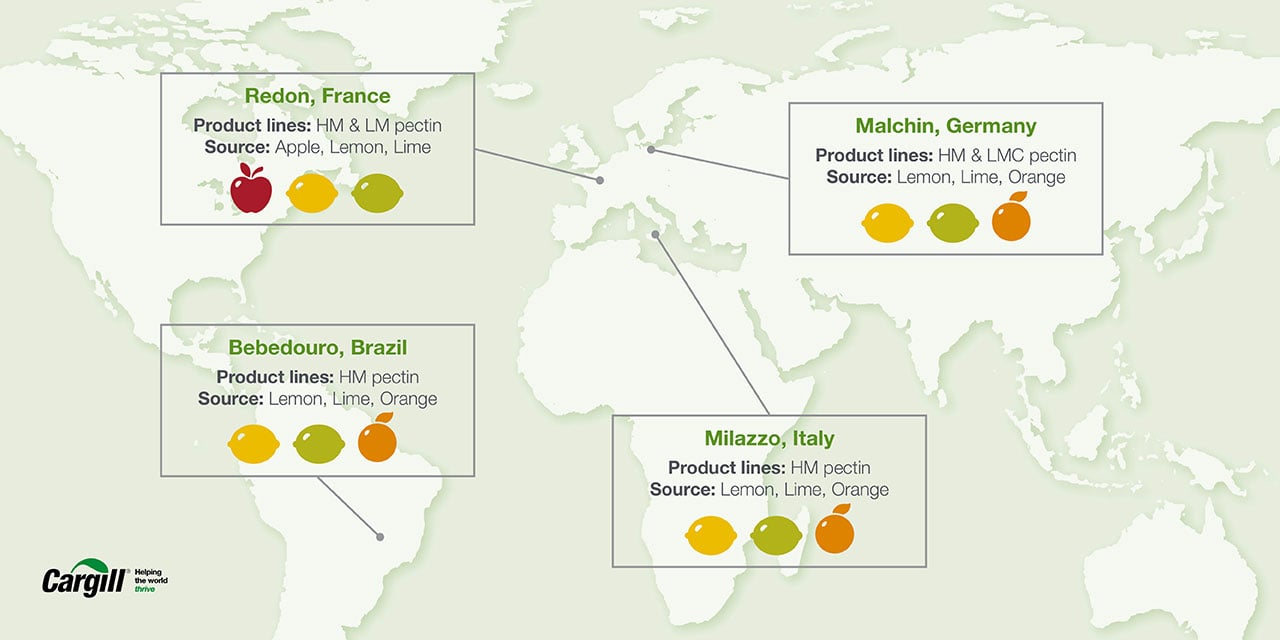 Cargill's pectin milestones